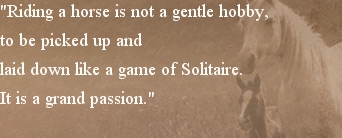 At Saddle-Up we offer several ride choices to accommodate each individual's ability. Choose one of the rides below.  GPS and other direction devices will not get you to us, we will make sure you have the correct directions.  ( Prices listed are cash prices additional fees applied for credit card payments.)

RATES:

  1 HOUR RIDES     $50.00 PER PERSON

  2 HOUR RIDES     $90.00 PER PERSON

  2.5 HOUR RIDES  $110.00 PER PERSON

  The 1 hour rides are dry trails, they do not have water crossings.  Our most popular rides are the 2 hour and the 2.5 hour rides these rides offer water crossings.  We have a weight limit of 240 pounds.

 A credit card will be required at the time of the reservation.  We accept VISA, MASTER CARD and DISCOVER. 

Cancellations must be made 24 hours in advance of the scheduled reservation or you will be charged in full.

We do not take reservations via email or online. 

          Call to reserve your ride today!